2009
2010
Sep 16, a message is sent by e-mail referring the many and valuable "favors" that have already been made, hoping that one more would not be too much of a burden. Thanks were to be given to two of his fellow administrators for being busy "improving" Vapmachado's user page and "suggested" they follow the "example" of an user who took advantage of Vapmachado being blocked to write "praise and pleasantries" on the talk page. Better than that, only to use the opportunity to delete and oversight what had been done in Wikipedia, to do away with the «evil» once and for all. The request was made with regrets.
Later on the same day, a message is received, addressed to "Dr. Machado" stating that they can't delete edit records on the pages history.

Please, check Oversight to confirm that this is a mumbo jumbo FALSEHOOD.
Please, see also some cases addressed in this wiki, like:
However, the message stated, if there was interest, the user and user talk pages could be deleted, and the user name removed from the list of the Brazilian Wikipedia contributors.

Since Sep 15, 2010, when the uncivil message was posted,[3] the lists of contributors have been "revised" and the name has been removed.[4] and [5]
It can still be seen on this page that, when compared with the almost six thousand active users, the rank would be around 500[6], although the last edit was made April 3, 2010 and not Oct 3, 2010, as erroneous stated by the unfortunate editor.[7]
Addressing user Vapmachado by "Dr. Machado" is formally correct in the US, but the exchange was in Portuguese. In Portugal, that format is uncivil and unacceptable. There is every reason to believe that is also true in Brazil, the native country of the sender. Editors and administrators from that country make a point of flaunting their lack of manners, addressing other editors as if they were their servants or went to the same school together, and have no clue about how to address others. (Please, see lack of manners)
Having been editing regularly on Wikimedia Meta-Wiki since March 25, 2010, the above message was moved, on August 3, to the Wikimedia Forum with the following note: I added the bold. This message has been on that section since June 1st. 2009:
hello.
I am sure you are not where this message should go but I am also sure that you knot who to get it there. I am legally blind and I ccannot find a "contacht us" link.
On Nov. 27, 2010, almost four months later, while I was blocked from editing, user Castelobranco, an administrator, recent bureaucrat (mandate expired on Nov. 11), and member of the arbitration committee of the Portuguese Wikipedia, posted the following:
This is a message that made me feel strange. Happy to help someway, but, in other hand, worry about not to do much more. Well, I love the wiki, too. Did someone already sent Kristine a response? It's been a long, long time...
Having dated his post, the only visible result of Castelobranco intervention was that, on Dec. 12, MiszaBot, a bot operated by user Misza13, archived that thread (older than 15d) to Wikimedia Forum/Archives/2010-11, without any further action noticeable.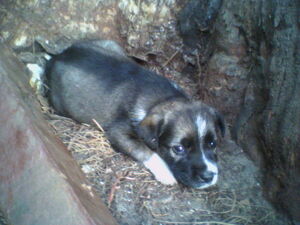 2008
2009
Nov 28 to Jan 18, 2010 Teles first contributions, as User:Lucas Teles, used as some sort of private chat to exchange supposedly humorous messages with his buddies, mocking Meta and other Wikimedia projects.
2010
2011
He follows me everywhere I go like a good pet. As soon has I started to participate in this discussion, at 2:19, on March 13, 2011, a little over 24 hours later, at 4:10, March 14, he started editing on the same project, allegedly "to help on vandalism combat," presumably from this vandal. Why does your pet dog follow you everywhere you go? Because they love you and want your company.